What Can Businesses Learn from Duolingo
With over 500 million users around the world, Duolingo is one of the most successful businesses in recent years. But what can businesses learn from their success and strategy? 

Who is Duolingo?
If you had a mobile phone and experienced the covid lockdowns, then you'll probably know of Duolingo. They focus on teaching languages by using modern technology like data analytics and algorithms to help make learning fun & easier for its users.
The pandemic sparked a spike in online learning as consumers prefer to be in control and learn at their own convenience. The online language learning market is expected to grow to €47 billion Duolingo has organically become the world's most popular way to learn languages and the top-grossing education category. Duolingo's aim is to "make learning free and fun" and this can be seen in their marketing.
In this blog, we will look at what's made them so successful
Email Marketing 
This is common practice for any business, however, Duolingo stands out from the crowd by making their emails fun and personalised. They send out personalised weekly, monthly and yearly round-ups to show how each user's learning behaviour changed over time. Their email campaigns also help:
- Drive awareness of new app features: Through their "round-up emails", they were able to summarise features to help teach users how to maximise the value of the app.
- Encourage continual learning: Through online learning, users will be overwhelmed and may drop off. However, Duolingo's emails consistently focus on encouraging users to pick up from where they left off-
- "Guilt marketing" – Duolingo uses a unique growth marketing technique to get users to return. They will use guilty messaging to get users re-engaged and it works! It was found to be 5-8% more effective than other methods.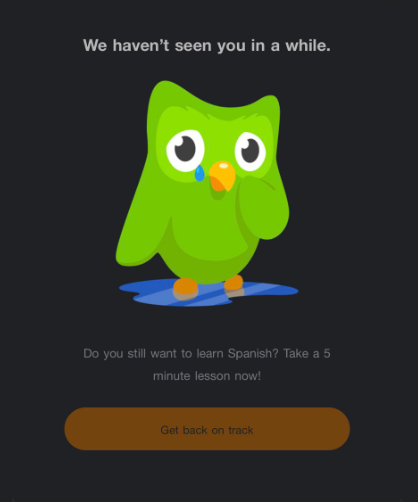 Embraces Gamification
Duolingo's mission is to make learning fun and they do this perfectly through gamification. It's one of the main reasons why they have been a success from the start. They use gamification in their characters to keep users engaged and content fresh whilst using the "level up" segment to show your progress which drives user participation. 
Embrace new marketing channels 
For a business to remain successful it must embrace new technology and marketing channels to reach the younger market. A perfect example of this is Duolingo's phenomenal rise on TikTok. In just 5 months Duolingo grew its TikTok account from 100,000 followers to over 2.3 million users (now 5.5 million). They also have over 7 million likes and over 19% engagement rate. 
They have navigated TikTok perfectly by using a mixture of reactive, proactive, and interactive content and blended it with their fun style to attract Gen Z and Millennials to their platform.
Check out their TikTok here - https://www.tiktok.com/@duolingo?lang=en
Duolingo focuses on User Experience
Duolingo uses a mixture of visual elements like Duo the Owl, consistent app structure and pop-up tutorials to keep users engaged and having fun:
Duo the Owl – Duo is a great design element and Duolingo's mascot. Duo is fun, cheeky and vibrant to keep users engaged. Duo appears throughout your experience, for example, to remind you of your lesson. They use Duo in their marketing and advertising materials with great success, everyone loves Duo.
Useful pop-ups and tutorials – Duolingo perfectly uses pop-ups to enhance the user experience. They use them to help users in their lessons, whether it's a hint, a fact or a new word to learn it helps the user know they aren't alone in their learning journey which helps boost their retention. 
Consistent App Structure – Duolingo maintains a consistent course layout for each of its 42 languages. Every icon has subtle animations and creates an overall feeling of joy for the user.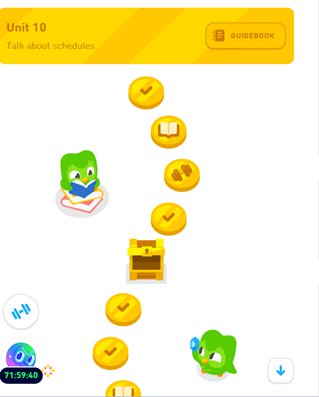 Duolingo continually uses its fun brand personality across its online and offline platforms to encourage user retention and sign-ups. Duolingo uses a wide range of marketing techniques to remain authentic, fun and engaging to their audience. As a result, their paid subscriber based has grown from 1 million to 2.9 million since 2020 and 60% of their global users are under 30 which stands the company in good stead to continually grow.
Will you take anything from Duolingo?
The Zen Agency are specialists in all things digital, whether it be website and app development or digital design. We can help with creating digital marketing strategy, content creation, social media marketing, PPC, SEO and videography.
Are you looking for advice on all things digital marketing? Call us today at 0141 229 1333 or fill out our quick enquiry form on our website and a member of the team will be in touch to discuss your marketing needs.