New Year New Instagram Updates
Over the last couple of months, Instagram has been going through small changes each month to improve the platform. The head of Instagram, Adam Mosseri, has shared his three-part vision for the evolution of Instagram over the coming year. He stated 2023 is about bringing people together over the things they are passionate about. So, Instagram is going to focus on:
- Inspiring creativity
- Discovering new things
- Sparking connections

Instagram has already begun carrying out updates from around October. In this post, we'll highlight some updates you may have missed and identify new things businesses & content creators should look out for.
Instagram.
September Updates
September 2022 was a busy month for Instagram. The platform was releasing new updates almost weekly throughout the month to try to compete with TikToks success. The main updates were:
- Insta testing out topic tags for Reels - Instagram has begun testing a new way to categorise Reels. The new option should help users reach their target audience and can be the next evolution of hashtags. We believe this update shows Instagram is still focused on Reels and recommending content (which users dislike). However, if the topic tags help improve these recommendations they could be successful.
- Instagram plans to phase out the Shop tab – The Instagram shop tab will soon disappear from the app and plans to be replaced by the Reel icon. Instagram will still allow users to shop via stories, ads and reels but they've redesigned the navigation bar. The navigation bar will now have the "content creation" button in the centre to make content creation easier.
- Instagram is testing a "re-post" feature – Instagram is testing a new post option that looks to have taken inspiration from Twitter's "re-tweet". This will allow you to repost others content with your followers and has been in the works since May 2022.
For more information on the September updates visit here

October Updates
Instagram shocked its users by providing a Bebo/ Myspace throwback by announcing they are giving users the ability to add a song to their profile. Tech leaker, Alessandro Paluzzi, tweeted screenshots of how the new feature will be displayed.
To add a song, you will be able to update your music by "edit profile" then once live a "music" option will show up. From there you will be able to search for a song and give it a caption. For more information visit Alessandro's Twitter
.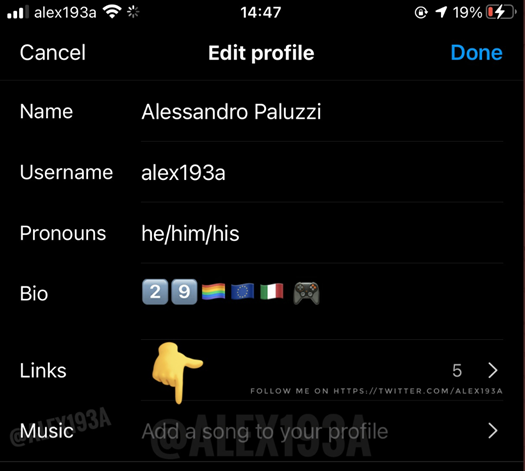 Instagram also announced they are allowing users to add multiple links to bios. This is quite a drastic change for Instagram as creators know it for not being the most link-friendly platform, however, this update will allow users to navigate off the platform.
Businesses and creators alike will be excited with the news of Instagram testing in-app scheduling tools. This will allow users, creating a post or Reel, to click the new "schedule this" button, available under "advanced settings". From there, users can select the time and date they want to publish their posts. This will help make the platform more "content creator" friendly and will hopefully get more creators on Instagram's side.

Instagram Changes in November
In November, Instagram introduced the ability to add music to posts. This update will allow content creators with more tools to bring their content to life and express themselves.
Instagram said "Music is a huge part of expression on Instagram, and we're excited to provide the ability to add music to feed photo posts like you can with Reels and Stories"
Interested in knowing how to add audio to your post? Visit Instagram's help centre to learn how to add music
Other Instagram Updates You May Have Missed
- Instagram Group Profiles – This is a new profile setting where you can all share stories, posts and pictures in a dedicated share profile. Whenever content is posted in a "Group Profile", it will only be seen by other group members instead of your followers. This can be a profile for your friends or a specific group of like-minded people (like Facebook groups).
- Collaborative Collections – Instagram is testing a way for friends to connect their shared interests together by saving posts to a collaborative collection in your group or 1:1 DM's. This will be like a saved folder you can share with your friends or content creators.
- Candid Stories – This will be Instagram's version of BeReal. This is a way for users to capture and share what they are doing in the moment, which is only visible to those who share their stories.
- Notes Feature – This new feature is an update of an existing feature when you bring textual posts to the platform for the first time. However, with Notes, users can share posts of up to 60 characters and select which followers can see them. The Note posts stay at the top of recipients' inboxes for 24 hours and any reply will come through as a direct message. This is to improve communication on the app.
- Dual Camera – Instagram's new dual camera feature allows users to record content with their back-facing camera at the same time as their front-facing camera. However, it's only available when recording Reels. It allows you to record from both the front and back simultaneously.
It's a big year for Instagram to try to hold on and expand its users with emerging social media platforms fighting to become users' favourite form of social media. These updates will hopefully delight businesses and content creators as Instagram give more creative freedom.
What are your thoughts on Instagram's recent updates? Will it keep you using the platform and is it your number-one choice?
The Zen Agency are social media specialists, are you looking to enhance your online presence? Contact our team today by filling out an enquiry form